Review: Nicholas Daniel / Anna Dennis / Mahan Esfahani at Snape Maltings (The Guardian)
Anna Dennis / Nicholas Daniel / Mahan Esfahani review – poetry and animal magic
Snape Maltings, Aldeburgh – Saturday 8 April 2023
The soprano, oboist and harpsichordist delighted in a varied recital from velvety Bach arias to new insect-inspired sketches by Michael Berkeley, and an emotional Elena Langer song cycle.
Music over the Easter weekend at Snape was dominated by Bach. But sandwiched between a selection of the keyboard partitas played on Good Friday by harpsichordist Mahan Esfahani, and an Easter Sunday St Matthew Passion performed by Solomon's Knot, there was a recital given by Esfahani with soprano Anna Dennis and oboist Nicholas Daniel that ranged more widely between the baroque and the present day.
There was Bach included, of course. Dennis showed what a wonderfully accomplished and appealing baroque interpreter she is, singing arias from cantatas 199 and 210 with velvety warmth and wonderfully secure control, their oboe obbligatos sensuously entwined with the vocal lines, while the programme was framed by Handel. Daniel and Esfahani eased their way through the C minor Oboe Sonata, while two of the Nine German Arias provided the finale, the florid ornamentation passed to and fro between Dennis and Daniel.
The contemporary works included new and nearly new pieces. The world premiere was Michael Berkeley's Haiku 2: Insects, a set of six harpsichord pieces written for Esfahani, and each a vivid little virtuoso sketch depicting the movements of a different insect – erratically skittering around the keyboards for The Fly, pugnacious and insistent for The Maybug, and so on. There was also Berkeley's Snake from 2012, a cor anglais solo, which was preceded by the composer himself reading the DH Lawrence poem that inspired it. Esfahani and Daniel also introduced Sven-Ingo Koch's Die Frage der Dinglichkeit (The Question of Materiality), characterised by Daniel as "microtonal Schubert crossed with head-banging harpsichord", but actually a surprisingly lyrical, almost wistful miniature.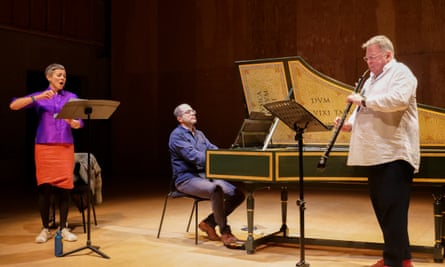 Elena Langer's 2022 song-cycle Love and Endings had given its title to the entire recital. Commissioned in memory of the composer Gordon Crosse, who lived for many years in Suffolk and died in 2021, it sets three very different texts for soprano, oboe and harpsichord – anonymous poems from middle English and the 16th century, and a late one by Vladimir Mayakovsky, in English translation. All deal with loss and transience, but the emotional weight very much falls on the final, unfinished Mayakovsky text. Dennis's vocal lines soared and swooped ecstatically, as Daniel's oboe and cor anglais wove around them and Esfahani added stuttering punctuation; it was powerfully effective.
Andrew Clements, The Guardian, 9 April 2023
Read this review online at The Guardian